In this newsletter
Amahi Launch and Holiday Party!
We've Doubled!
More News
Seeking Guest Bloggers
---
Launch and Holiday Party!

Ready or not, we're launching!

Amahi is throwing a Launch and Holiday party!
And you are invited!
We'd like to party with our team, our users, and all our friends. All the people who have helped us, with hard work, advice, sharing great connections, insights and encouragement!
Party is December 21st at 6pm, in Sunnyvale, California.
Please RSVP for headcount by email (contact us directly if you did not receive the email).
Come unwind and kick off the Holiday season at our Launch Party! We will have music, drinks, food and great company!


If you would like to bring stuff let us know to coordinate!
The party is generously co-sponsored by our startup friends at Acunote (a very useful, not to mention cool, Agile Project Management), FocalPower (Innovative Services for professional Photographers) and Marale (Top-notch Engineering Services for a Greener World). Thanks guys!
We've Doubled!

We have doubled our install base! And we are readying our web site to accelerate that. Thanks and welcome to all the new users!
We have a brand new site! This site is the home for remote management of HDAs, be it yours or others (like family ones, or friends, or small businesses). We have a brand new FAQ that we keep updating over time.


The site is in private beta and we will be expanding the beta for our launch!
We did a new full release which got received so very positively. We're also working on the next one.
To promote the site, we did a bit of marketing. Through that and through user interest, we're in the first page of search engines when searching for linux home server and similar queries! (though it fluctuates heavily week by week.)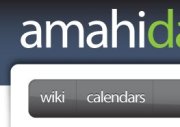 We have also been working on a theme engine for the HDA dashboard (our very first feature request), and our friend Alvin, who is a great designer, has been working on our first theme, Agedashi (click the thumbnail to see the full screen). Thanks Alvin!!
More News
As some of you know, I have taken an interesting consulting job with a thriving startup founded by some friends to help finance Amahi. This has slowed development somewhat. We're looking for ways to speed that up, including recruiting smart developers to work on some of our very coolest Ruby on Rails, Python or PHP plug-ins.
We have been busy putting together a management team, which remains our top priority. Although it's a slow process at times, we hope to find a full-time CEO and/or VP of Marketing soon. If you know of someone interested in this space, get in touch with us!
While that proceeds its due course, we continue to be hard at work refining features, fixing bugs and more importantly doing more installs until it's all fully automated through our web site.
Seeking Guest Bloggers!
One of the things we would like to do is chronicle home server and/or home theater PCs (HTPC) being installed, to get a better grasp on the crucial issues people face in home networking.
If you or someone you know is thinking of building an Amahi HDA, or an HTPC, and would like to guest blog, please get in touch! Similarly, if you would like to invite us to guest in your blog, let us know.
So, get ready and come on by to the Amahi Launch and Holiday party!