Hear, hear!
We started posting some testimonials from Amahi Linux Home Server enthusiast users.
Gotta love some of those quotes!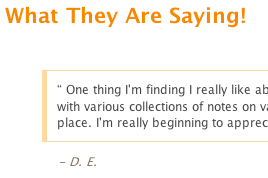 Check out this great testimonial from the amahi-users mailing list. This is a great user testimonial, copied here:
I have posted a couple of questions about things so far that have some
glitches. That is to be expected in a beta, so no worries there. I
thought I would write my overall impression of what I think is a much
needed and very timely project. So far, I like it! I am liking the
overall capability of the Amahi server. This is something that could be
easily built into a Fedora-based Linux system and be an easy server for
someone to set up. Bravo!
I am liking how easy it is to get Samba going. I have never had the
levels of success with Samba that Amahi provides right out of the box.
Both Linux and Windows clients pick up on the shares with ease. This
allows for home and business users to have files and backups available
no matter which computer they are on. In the future this could be
improved by allowing the users to set up additional and protected
shares. Being able to have some folders in the home directory will
allow easy access remotely for ssh and scp users. Encryption would also
be ideal. It would be nice to be able to encrypt files and folders to
protect them from attackers. It would be nice to do this on the fly, so
that the user asks for a file and then has to enter a passphrase to
decrypt it. Just an idea. Failing that another idea is to encrypt
entire drives through the use of truecrypt 5.0. Nice, and protects the
data if the server is physically stolen, but it would be nicer to have
encrypted files decrypted only when needed and asked for by an
authorized user.
Backups are a major item. I back things up far less than I should, and
have been searching for a back up system that I like. I did some betas,
but was never impressed. I like the approach taken in this project.
Just boot up via network, and back up any drive you want. Beautiful
idea, and I hope to get it working soon (can't mount the iso, and on one
system my keyboard will not work in the linux set up, so I couldn't
mount it even if I knew what the issue was).
Calendar and wiki functions are great for those organized people, and I
like the recipe app, though I haven't tried it out. I love to cook, and
also really want an excuse to build a kitchen computer in the future!
Once I have everything up and running to my liking I am going to begin
locking down the server and running some security and penetration tests
on the server. I will give you the results, and if you want I will post
those results in the devel mailing list as well. Security is important
(I know, I am biased, having a masters in Information Assurance).
Hopefully I can give you a heads up to any major issues so you can start
building in a bit of security to your server. Believe me, it will be
much cheaper to build it in now rather than patch it later!
SSH functionality is important to me, and I am not sure how much of it
you all will be planning. Haven't noticed any real changes as of yet.
You will want to be locking down the sshd_config if you do, and I am
running denyhosts with no ill effect on things as far as I can tell.
You may want to emplore adding that package if you can.
Keep up the good work. I am really enjoying this so far. When this is
all finished you will be making an all day (or multiple day) project
into a 30 minute project. Windows Home Server? Please. Try Amahi, and
have true cross platform functionality!
Love it!