In this newsletter
Great Amahi News
Rise in Popularity
New Release
Finding out What Users Want
---
Great Amahi News
Time for an Amahi update, packed with news!
With these great news, you'd think we're onto something!
Since our last newsletter, our users and installs have more than doubled. Again.
Our average daily web site traffic has increased more than 5-fold.
We've had a couple of waves of over 500% and 2000% increase in traffic compared to average traffic. Yes, that's 5-fold and 20-fold over the average, for those like me with rusty math
Requests to join our beta program have increased dramatically, to the point that we cannot handle them efficiently. We're very actively working to address this.
We're risen significantly in visbility, ranking about number 3 in most major search engines: Google. Yahoo! and Live
… last, and most importantly, we released our best-ever Amahi Linux Home Server release to date!
Rise in Popularity
I know what you're thinking. You think we probably got some bit of unexpected help from the perceived competition. That has certainly got us some interested users. However, we're really not in competition for the same users. We're complementary, not just in the typical users, but also in technical features.
Nevertheless, we welcome users interested in shaping our view of what a home server should be!
Part of the rising popularity since the last newsletter comes from being referenced in various well known and respected forums like ars technica, engadget, gigaom, clubic, in France, AVForums in the UK, DailyTech, TechWatch in Australia, and others. We have also been featured in popular sites like Newegg, and reviewed in various blogs in the home server space.
Our user mailing list is now gaining traction and we hope to get some rocking developers from it!
Not only that, we have been getting great feedback and even some praise in the form of great testimonials!
We are rotating a few of the testimonials at a time in our web page.
New Release, Fedora 8 Based
On the more concrete news front, we have done a big new release since our last newsletter.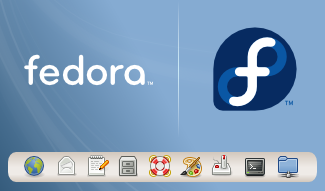 After this release proved to be stable, we have been opening the beta program to more and more enthusiasts. We have more than tripled our user base and got more and more useful feedback than ever.
This release contains stability improvements, it is based on Fedora 8, it features Ruby on Rails 2.0, and it provides a solid base to add more components into the base system, like making it more of a media server, which is what our uses seem to be want the most.
Finding Out What Users Want – Pretty Pictures!
Now for some eye candy.
One of the great challenges we have, being small and community driven, is to understand what you, our users, really want, (not just what you say you want). This helps us prioritize what to work on, as opposed to guess. It's basic customer satisfaction.
At the moment we are conducting research on what features people are interested in the most. Here is how we're doing it. We have our list of the major features in the Amahi Linux Home Server home page.
We use heat maps to understand what users like the most, by correlating where visitors look at, in an aggregate manner. Hopefully this is a reliable indicator of user preferences. See the picture below!
In addition, we're working towards getting feedback forms.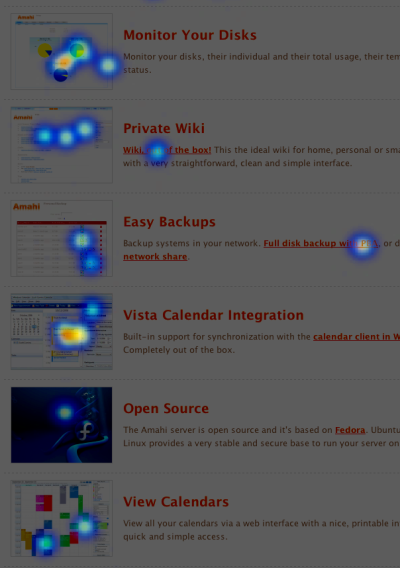 There are quite a few more things going on, as we continue building a team, make new releases and improve the user experience. We'll keep you updated over time with details, however, that's all for now!