We're happy to announce the initial release of the very first independent Amahi theme! Agedashi is it's name!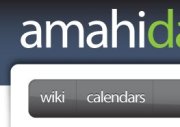 Along with this, we are also announcing an upgraded version of the Amahi (RoR) platform software to make the theme engine work smoothly.
What that all means is that it's the first theme that works as an easy to install app! Scroll down to the end for the cool screenshot from a running HDA.
We have talked about themes and Agedashi before, however, this time we're really happy to say that it just works out of the box.
Agedashi was brought out by a collaboration of 4 Amahi enthusiasts!:
Gairy Spiers toook a first shot at the theme, decomposing the image in it's parts and layers, to be used in Gimp or Photoshop.
Gerald, who masterfully hacked the CSS to work, pulled the images together and generally helped with the debugging of the theme engine inside the Amahi platform.
Yours truly, integrating all the pieces, and put together the bits in the form of a release.
Kudos kudos kudos to everyone for pulling it together!
I remember the sensation when it worked for the first time yesterday, seeing my HDA in a whole new light after such a long time seeing the same theme. It was so cool! Someone in my family saw it (we all use the HDA dashboard as our home page), and he said he was "shocked" 🙂
To make it work, you install the theme as as app, and click on the icon or go to the setup page. In there, you go to the Theme tab and browse the themes. Click on the one you like!
The code is in SourceForge, under the directory called themes/agedashi.
We have at least two people interested in doing new themes for Amahi. That would be very cool It should be much easier now that we have a fully working theme!
What would be also extremely cool is a screencast and/or tutorial on creating themes! (Hint, hint)
Here is the changelog and known issues. Thanks again to all involved to make this very cool feature happen!!
hda-theme-agedashi is the rpm name, version is 1.0
The theme engine does not support theming the pie charts showing the disk usage (yet).
The platform software required is version 0.90, which is also released along with this theme release.
When clicking on the theme icon, it should take you to the theme selection pages, not to the setup page – this is a feature that needs to be addressed at the platform level.
Themes should be selectable on a per-user basis. At the moment it's an HDA-wide setting, so all users see the same theme. It is suspected that different people have different tastes, even in the same home network 🙂
The wiki does not support theming yet.