We could simply not help it but add support for MediaRSS, and by extension for PicLens, a spectacular client for MediaRSS (and more) to our Amahi SlideShow app the moment we saw PicLens in action!
Here is a screenshot of the PicLens wall with some photos (click on the picture to see a large version).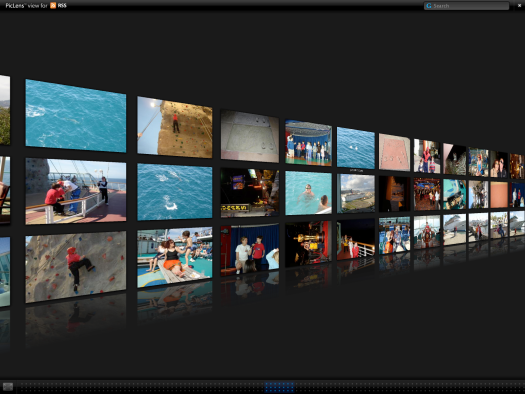 Even the large screenshot does not do justice to how powerful the slideshow that PicLens provides is!
PicLens is a browser add-on for navigating pictures in a very immersive way. Go ahead and install it!
SlideShow is an Amahi Linux Home Server plug-in app (one of the few that we have well documented in the wiki) that displays the pictures in your pictures folder via a web browser, in a slideshow format, with (AJAX) screen effects, etc.
This week we learned about CoolIris and saw one of it's flagship products, PicLens, in action. The visuals provided by PicLens are simply stunning (some people get dizzy since it's so immersive)! With a side scrolling mouse, it's truly an experience!
A slick video from CoolIris should help illustrate the features better. For SlideShow, in addition of Google/Flickr/YouTube/etc., by default it launches you into your pictures when you are at the SlideShow app:
We have tested it with our set of home pictures (over 15000 pictures, 14GB+ in all), and it performed very well, with our HDA generating the thumbnails at a rate of 2 a second, and serving them off the cache (in subsequent browses) at 400 thumbnails/second for the PicLens wall! Pheeeewwww!
Install PicLens and hit your HDA with the update, though if you have automatic update running already (as well you should!

), you should have it ready to install in your My Apps screen by now!
Just be careful: do not get too dizzy with PicLens and do not drool on your keyboard!

Here are the release notes:
Version 0.22 of SlideShow released, simultaneously with version 0.86 of the platform software
Platform v0.86 provides support for Amahi apps to insert their on links in the head of the pages
SlideShow automatically exports and makes available a MediaRSS feed for the media in your HDA's pictures folder.
At the moment it's all one long feed, which displays as a long wall in PicLens. Albums is something that over time will get more and more support, no doubt, since it's a must when handling such an immersive experience. Same thing with hierarchical folders of pictures, which we use fairly extensively
SlideShow v0.22 will automatically generate thumbnails for the MediaRSS links as they are requested by the client. This is very slick. It keeps the thumbnails in a cache in /tmp/, so they will stay there for a while, then flushed. Needless to say, depending on the speed of your HDA, the initial loading can be fast or slow (my HDA is not too fast – an Athlon 2500 at 1.8MHz and it was useable).
No support for video yet or the other more fancy features like background music, etc.
Please report any issues you may encounter with these updates!
Carlos