Having revamped the website and prepared "behind the scenes" for scaling to serve thousands of users, the core team at Amahi has turned its attention to the most important thing — the Amahi HDA.
Before delving into some detail, first a comment on our goal. Ultimately we want the Amahi HDA to be for the average user to manage their home network. Of course we cannot do this straight away. Initially we have focused on the power users – to help build a robust offering. With some core functionality still to come (web based user and share management) we have started planning "what next?"
This is where the feedback from our beta users has been incredibly valuable. With close to a thousand responses to the question of desired functionality – a media server is the overwhelming feature request. The graph here summarises the results. In any case, we are very open to individual opinions and contributors so let us know your thoughts!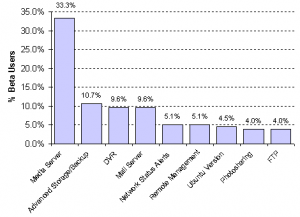 The team believes in the simple mantra "release early, release often" rather than aiming for the perfect code first time, so expect more in the near future!