I know you've all been waiting eagerly. I know that we've been promising it, so here it is, the newest and greatest release of Amahi! Check out the screenshot of the share management interface.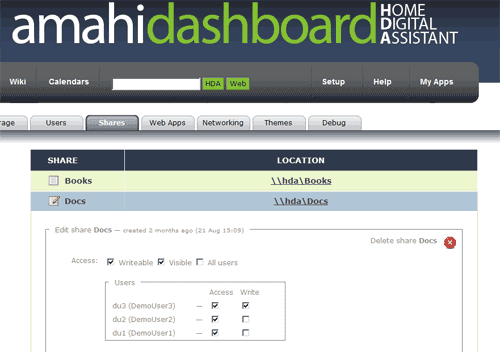 The platform is now ready to start exploring adding new applications. Improvements since the last release include:
streamlined user creation
fully functioning share creation, including "per user" visibility and read/write control
a further improved installation process (covering some short-comings in Fedora 9)
desktop icons for better access after install to your HDA's setup and Amahi support
various little bug fixes – not worth mentioning the specifics in the blog 😉
We're going back to the feedback early users gave on the applications they'd like to see on the platform. We've had them working in the lab, now we're going to start focussing on media servers, specifically UPnP and DLNA to support a whole range of devices. (We will test with Xbox and Play Station – I've been looking for an excuse to go and buy a new game console!
In parallel, a whole group of users have started testing various GroupWare applications on Amahi. We're collecting the feedback, and aim to streamline the install process (even beyond the WebApps configuration now available.) Stay tuned for more!
On another topic, Amahi is slowly emerging from "under the radar" — Linux.com published a great little article on Amahi . No doubt adding new apps to the platform will raise our profile – if there are some favorite apps you'd like to see, let us know!
You can reach us at the support email, the IRC channel or the user or developer mailing lists.
Many thanks to all the community for helping testing things out, and making suggestions for improvement in this release!
Technically, this release is made up of the following releases:
hda-platform-1.10
hdactl-2.27