I couldn't resist – I signed up for the Windows 7 beta, installed it on an old workhorse desktop (2GHz, 1.5G RAM, 120G HD – Asus P4P800 motherboard).
The installation went extremely smoothly – including the drivers for my old Nvidia graphics card and my HP4600 scanner. After starting the browser (setting my search providers, turning off a whole lot of IE8 add-ins, etc) I tried accessing my Amahi home server. There wasn't a hitch.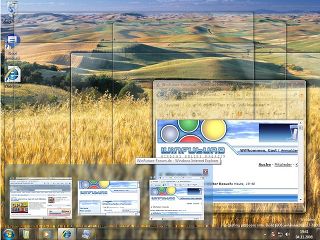 Accessing the Amahi shares is way faster than on XP, let alone Vista. The summary: Amahi works well with Windows 7 (though I still have to test the Amahi VPN from a Windows 7 client).