Just when we're about to have another major release … I am sensing some disturbance in the force. It must be our release testing!

Don't you hate it when email goes down??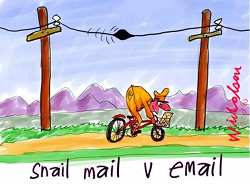 For the third time in three weeks, we're having Amahi email delays issues. All these issues have been independent.
The first time around there were some DNS issues for the root DNS server of our registrar. Very unusual.
The second time was when someone in the same network block as our email server was having some virus/spambot infections and someone, somewhere, decided to label us as spammers. Not nice!
Lastly, for the last 36 hours we have incoming email down due to a server supply motherboard being busted!
Email is both simple, yet notoriously hard to manage reliably. Only when things fail I realize how complex my "email tree" is! Mailing lists, Google groups, Yahoo groups, spam, personal email, Blackberry email (hmm, yummy!) … the works.
You tell me …

Incidentally, we're getting closer to releasing an email server for Amahi, yet I still don't understand why people chose to run their own email server

Cartoon by Nicholson from "The Australian" newspaper.