The rebellion strikes back!
The Amahi team is proud to announce the launch of the Amahi Web App Gallery.
That's right! Once you have installed Amahi you can simply visit the list of available applications and install them on your home server with a single click!
Watch the screencast of the one-click installer in action with Gallery 2 the after the break below!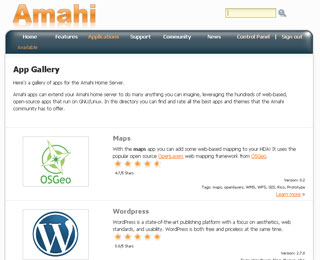 Applications being released with this announcement include:
Gallery2 , popular photo gallery application
uShare, UPnP and DLNA audio/visual media server
Jinzora, easy to use media streaming and management solution
WordPress, the leading blogging application
MediaWiki, the same Wiki package that got Wikipedia going!
Transmission, slick bit torrent client
SABnzbd , simple to use binary news reader
AjaXplorer, amazing, full featured, browser based, file navigator
WebVNC, remotely control your server through a browser
and more … with many others coming soon!
Packaging applications for one-click install is pretty simple. Indeed, one Linux n00b in the community (with some help in IRC channel) packaged the Jinzora media server!
If you have a favourite application you'd like to make available through one-click install see our how to contribute an application page.
Many many thanks to our great community for helping Amahi get to this important stage!
And now, back to Star Wars analogies – the Rebels have more applications in our gallery than the Empire. Let's work to keep it that way!
—
Here is the screencast (it's wider to show more detail, so it covers some part of the sidebar):