It's been a week since one-click application installation was released, and, already the community has submitted a competitor for Jinzora, one of the demonstration applications.
The featured new application is Ampache (not to be confused with apache!) Ampache is a web based audio/video streaming application and file manager allowing you to access your music & videos from anywhere, using almost any internet enabled device.
Not only does Ampache organize your music/videoes but it transcodes and streams it for you – making it accessible through a standard web browser interface (more info)! This is pretty amazing.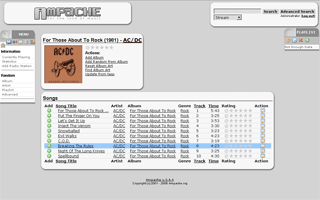 Gizmodo did a recent article on some of the nice new features of Microsoft "Windows 7" one of which was the abillity to access your music from 'anywhere.' Problem is 'anywhere' in this case requires that you have a Windows Live account AND that the media player you are using is the same as that on Windows 7!
When we say anywhere we mean anywhere, cross platform, cross browser, you name it, Ampache enables it.
If you want, try both Ampache and Jinzora to see which one works best for you! You can do this in 5 minutes with Amahi one-click install.
We will be announcing more apps soon – we're trying to work out the best way to manage this process.