Check this out! Amahi 4.2 was released today! And with it come massive performance improvements!
Amahi 4.1:   2.10 MB/second
Amahi 4.2:   14.08 MB/second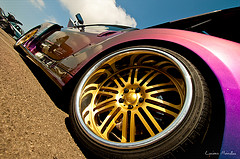 That's a well over a 6-fold improvement in file write performance in Amahi 4.2 (released today) vs. 4.1!
If you do backups or other write-intensive operation to your HDA, you will love this new version!
How do you get it?
Your HDA should have 4.2 unless you disabled automatic updates. Make sure you have Platform 4.2 or greater. Check in Setup -> Settings.
Make sure you change at least one setting in your shares area (Setup -> Shares) so that the new settings take full effect (depending on the OS, you may have to re-connect the client).
With this new platform you are likely to get anywhere from modest to very large performance improvements in file transfers, though your mileage may vary depending on your hardware and wiring.
We have seen 3 to 6 times improvements over a gigabit network (two routers, not-so-great cabling). This means we can now easily stream two HD streams over the network while network backups are going on without jitter
Now, … if only my desktop could handle one 1080p stream without jitter … 😀
Premature Optimizations
When we started Amahi, we picked reasonable, safe and stable settings for various subsystems, including Samba.
As we improved things around, we kind of neglected to optimize subsystems along the way. Generally speaking we're more interested in stability and reliability. You may have heard a famous statement by Don Knuth (a legendary prof in Computer Science), "Premature optimization is the root of all evil."
One of our entrepreneurial users, Pegasus, pointed out that the default Samba settings were more conservative than they ought to be. Lo and behold, a single setting we had been using for a while was, er, rather suboptimal. The new settings (see bug #342 for the gory details) provide massive improvements in writes performance (we have seen 300 to 670% improvements) and modest improvements in read performance, 15 to 25%.
This, along with a few other small changes, was benefit enough to warrant an unplanned release, v4.2, to the stable version of Amahi.
The upcoming version 5.0 will bring optimizations, with more than 30% improvements in performance and memory footprint for the platform! Stay tuned!
How we Tested
The testing was performed with a 3.4 GB ISO image writing it and reading it from an HDA, as an rsync copy via SMB-mounted shares from my HDA to a Mac OS X desktop. The two machines are separated by two inexpensive gigabit "green switches" chained with (below average) cat5 cable. Obviously the disks and IO subsystems of the machines matter too, but this will give you an idea how how this testing was performed. Three people in the community used these settings successfully for over a week.
Hope you enjoy it!