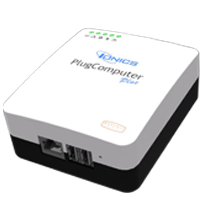 We're very happy to announce the first release of Amahi Plug Edition for the Plug Computer platform based on the Marvell ® ARMADA processor! And you can snag one FREE in our new contest!

The Amahi team is all jumpy in excitement with this new "Plug Edition" release to the  ARM ecosystem and the Plug Computing platform, in partnership with Marvell. In these days when eco-friendly technologies are a must, the Plug Computer brings a number of advantages to running a home/media server at very low power. Now you're probably thinking …
COOL, I want one! How do I get in on the action?

If you have one already and are ready to take the plunge, head on to the release page to see how to install Amahi on it! Or buy one if you need the hardware … OR … wait … get one FREE …!?

Today we're also launching a theme and app contest, where 6 winners get a FREE 1.2GHz Ionics Stratus Plug Computer (pictured above), with WiFi, Bluetooth, Z-Wave (for wireless home control) and Gigabit Ethernet, sponsored by Marvell!
You don't have the artistic or coding skills? Follow @amahi and retweet this tweet and you could win one FREE Ionics Stratus plug too! Follow the rules in the contest page.

To kick things off, we are releasing the brand new Sheeva theme (high res) inspired by Marvell's PlugComputer.org site.
Even better, if you are a developer and are interested in learning more about developing for this platform check out Marvell's developer day, PlugIN 2010 (August 18th). Attendees will get a full day of developer sessions and receive a Plug Computer development kit.
Amahi + Marvell = Smart
The synthesis of the Plug Computer's compact design, low power, and headless operation with Amahi's powerful, easy to use features, efficient network management combined with one of the largest app stores of its kind, is a very smart choice for a home server:
The Plug Computer offers remarkably low power consumption: 3 ~ 8 Watts. Nice!
It's fanless and virtually noiseless. If you run yours with a flash drive, it has zero noise
Small footprint. You can put your server wherever it's convenient. If you are in tight quarters, this is the perfect solution!
It's inexpensive. Typically Plug Computers run $99 for a base system
Low Power, Heavy Lifting
Amahi Plug Edition is a powerful home server, capable of running lots of apps, from the simplest file sharing to iTunes streaming, to wikis, backups, and soon, DLNA media streaming to Sony or Samsung TVs as well as popular set top boxes with DLNA clients built-in.
Amahi Plug Edition running on a typical Plug Computer draws about 3 Watts idle, 7 to 8 Watts while booting and about 4 Watts with bursts of 6 Watts while streaming a full movie to an iPad with our very popular Videos5 app or a full 1080p stream to an HDTV. Not bad!!
All this goodness does not come without effort. While everyone was fussing about net neutrality, the iPad and antennagate, the team toiled, getting this release ready for your maximum enjoyment. Kudos to Scott, Guillaume, Rod, OB, Ofer, Pat, Peter & the crew. In addition, none of this would be possible without the Fedora ARM team for a great job!!
Cheers!