Today, as we're going through what we hope is the last week of testing for Amahi 6, we're
happy to announce the Amahi Ready™ program for hardware vendors and our first partnership in this program, by way of Evo Technologies, a Korean manufacturer of eco-friendly computer systems.
This is the first partnership for an off-the-shelf system with Amahi pre-installed, something that has been in big demand among Amahi users.
So if you've wanted to buy Amahi pre-installed, Evo Technologies is shipping the first system worldwide today. Meet the ECOPC N.1!
Green. Silent. Small.
The N.1 uses 10~11W at idle, 16W at full CPU load with 2.5″ SSD (18W with 2.5″ HDD) and less than 1W at standby. It uses about 90% less power than standard PC. It saves on electric bills and reduces the environmental impact of CO2 emissions. The N.1 can be operated with a small fan, or totally fanless, therefore you don't need to worry about a fan failing. No fan means no noise!
Facebook Likes, UPSs, FlexRAID and WOL, Wiki improvements
What an amazing few weeks we had. Amahi's Facebook page has been abuzz with all sorts of suggestions and discussions. Everything from an energy saving feature, flexraid, UPS integration, and Wake-on-LAN (WOL) were discussed!
The Race to 1K and redesigned Facebook page!
The race to 1,000 Likes is on! Who do you know that could use Amahi? It's our new goal here at Amahi, WE NEED 1,000 fans! So go out tell a friend or two, whether they have our platform installed or not, to jump on Facebook and Like us! So while you're there check out the redesigned page! We like the increased fluidity of the page and how it feels more like a personal users page!
WOL, FlexRAID and UPS Integration
Amahi is all about variety and choice. Many people do not know much about using Wake-on-LAN (WOL). WOL is implemented for devices with DHCP leases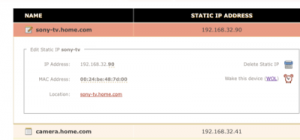 and Static IPs, under Setup > Networking. This was introduced to Amahi last year, and you can "wake" devices remotely with it. Great for the highly resourceful user!
FlexRAID is a highly scalable and smart storage system currently in beta that turns independent hard drives of various sizes, makes, and models into storage pools and storage pools into storage clouds.
Amahi Energy Saver is a project to make devices more energy-efficient. This project got an update and has a determined leader (hi jackrock!) and looks like it will be nicely integrated with Amahi! It's in alpha, however, we hope to take it a step further to make energy savings part of the Amahi platform.
Recently we've also had an update on how to integrate a UPS with Amahi. Ghuiber's efforts are documented in the Amahi Wiki under UPS setup.
Wiki Upgrades
If you followed those wiki links above you will have no doubt noticed the huge improvements in how the wiki looks and feels, with great looking templates for code, links, and easy to use notices. The speed at which the wiki changes is quite remarkable! And the amount of spam we get now in it has been curbed down big time. Take a moment to thank people improving the wiki and especially our wiki czars, smystaki and bigfoot65, for making all these great documentation improvements possible!
You told us what you think

Our goal with Amahi is to provide an easy, reliable, and expandable software platform for all of you.  We've asked the Facebook followers this: "What do you use Amahi for?",  the answers probably seem familiar to most of you:
Media Server
VPN Server
File Server
App Server
Cheers!
The Amahi Team