Today we present you a few fantastic announcements: Amahi 6.1 release, a new Amahi Ready™ hardware partner, new app updates … and … the first, Alpha Zero, release of Amahi Ubuntu Edition! We're excited about this!
App Store and Subscription Plans
First, an update on the transition from our former App Gallery to the Amahi App Store.  With all the feedback we got, we expect to more formally announce the App Store and it's details soon. In the mean time, we started testing by adding a small one-click convenience fee to some of the more popular apps that the community feels would be worthwhile, generating revenue for the project. This is so far working well and we are getting both positive feedback and feedback on how to improve/tweak things.
We also started subscription plans, which have been well received. As it happens, one of the core team members (cpg) suffered a fire at home (no major casualties), now really coming to appreciate first-hand the need for off-site secure storage of critical files. Was this a message from above?
We are happy to report that after the initial spike in support load, this transition has been  successful and we thank you all for the great support shown! We look forward to improving features on these fronts soon!
New Amahi Ready™ Partner!
We're constantly thinking of ways to create a successful ecosystem around Amahi. Today we're happy to announce our newest Amahi Ready™ partner! / kosa crta / ("cosa cherta") is a Croatian-region distributor of VIA Embedded ultra compact form factor, rugged and fan-less embedded systems. kosa crta recommends and ships Amahi Ready VIA M'SERV S2100 64-bit energy-efficient, large storage capacity, compact, low-noise mini server. Check out their special promotion to Amahi Facebook users! They have even created a few install videos.
Amahi 6.1
It's been quite a while since our last blog post announcing Amahi 6.0. While we have been delinquent on the news,  there have been many developments within Amahi in a few areas! We have released Amahi 6.1 (technically, 6.1.1). If you have Amahi 6, the update is automatic by default, so you are probably enjoying this release already. Check out the Amahi 6.1 release notes. The big ticket items are stability fixes for the platform and apps, initial support for Ubuntu/Debian platform and right-to-left languages like Arabic (thanks to Abdulrhman Al-Khamees!) and Hebrew (Ashi Carmel!). Also included are Latvian (Ivo!), Croatian (Vladimir!) and updates to Russian and Finnish. Awesome job from the community!
Did Someone say Ubuntu?!?
We are also very happy to announce the amazing Alpha Zero release of Amahi Ubuntu Edition!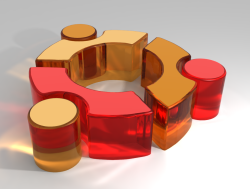 It's been no secret that the desire for an Amahi Ubuntu Edition has been strong for a long time. Commitment was critical in the face of complexity. We slowly added support for Ubuntu for a while and now have Frans (aka eFfeM), a very dedicated developer who was willing to lead on this sizable task, taking time to understand the intricacies and leading it past the goal of an Alpha Zero release for testers!
A few people are rumored to be running Amahi 6 on Ubuntu in development mode and are starting to test the platform and even apps! If you like to test and report bugs, please install it and join us in debugging and improving it!
This has been a long road, and we have still quite a long road ahead. We're calling it Alpha Zero for a reason 🙂
Please join me in saying many thanks to the development team, especially to eFfeM, cale, SolaR and cpg for their contributions (if you see them in IRC give'em a hug or buy'em a beer)!
What's up with Apps!? And the Express CD?
Our mothers used to say that "It's the little things that make people happy" .. and we couldn't agree more. Conversely, some little things are big when it comes to turn people off. When an app does not install or does not work well is a great turn off. This is a huge deal for Amahi, because we disappoint people when things do not work, and that makes them speak bad about their Amahi experience. It takes detailed attention from our contributors and our testmasters to validate and bulletproof apps.
Here is what we're doing to be more efficient at validating apps: we keep track of failures and we try to tackle the top issues. We are working on automatic app testing, which will ease the job of the team and leverage the (so far dormant) tester program. Expect to hear some news on this front soon as we believe we have a lead for the tester program. By focusing the team we believe we can package and release apps faster.
What about the Express CD? Hmmm, yes … we produced one version (Alpha 1) that was a dud. It did not work well. We have another version in the works that is rumored to run well. Many thanks for the contributions in this area to Solomon (aka slm499) and Rod Waldren!
App Updates
We now have a few apps verified and live as one-click apps, like
Cheers and enjoy!
The Amahi Team