Can you believe this?
Amahi got a cease and desist notice from Apple. It's about the confusion that the "unauthorized use" of the English term app store causes in Amahi's web site (click the image for the 2-page letter).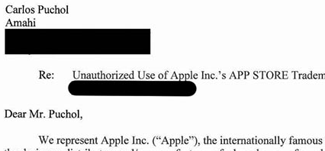 After the first shock, the questions start to emerge, like … What!? … or … why Amahi?
Long story short, Apple has to show they are defending a trademark claim they have on that term. Microsoft filed a motion to oppose that trademark claim in January, among other things stating that the two words separately are generic[1], that the 2-word term is also generic in English, that it's widely used by consumers, by the press and in the software industry to refer to the many app stores available today, and that even Steve Jobs used it in a generic way to refer to other app stores. All possible reasons to not grant the claim. Later, Amazon launched their Appstore for Android in March, and Apple filed a lawsuit against Amazon. Here is an article with a brief history of the claimed trademark. Update: apparently, Nokia is also contesting the mark in Europe.
Then … Why Amahi? Why pick on such a small target when there are so many people using the app store term? Amahi is a Open Source startup, and is not even in the mobile space. We may never know …
We're still trying to determine what is the best course of action (Update: we have started complying by rotating the term with the top contributions), however, this looks like a rather heavy handed move. Amahi being literally nothing next to Apple (sigh) we do not have the resources to fight this battle. Instead, we're holding a
We'd like it if you submit your suggestion for a term to use for Amahi's store area, in every language on the surface of the earth, except of course using the term "app store." Keep them short! We will use one of the top suggestions to name that area of our site. Even if yours does not get picked, you can still win one Plug Computer or one year of Amahi Pro membership. The team will randomly pick two winners among those submitting names, posting Facebook/Twitter posts/comments in that page. Keep it clean and fun!
To commemorate the occasion, we have released a new app called Amahi Invaders that you can install in your HDA (and you can play online too). Hope you enjoy!
Lend your hand to this effort!
Finally, on a personal note, Amahi has been a labor of love that started as a hobby and it has evolved into a healthy community of enthusiasts and a budding startup around the project. As much as I respect Apple, I believe the term "app store" as we have been using it is generic of a store to buy apps, or descriptive, a very weak category of mark, if at all. I hope that Apple will not be entitled to monopolize the term after the litigation goes through. It's nice to see that Amazon (and Microsoft) are bringing a strong challenge to the Apple claim.
Now back to work on much-needed improvements to our store!
Thanks to you for all the support you have been giving Amahi!
Carlos, for the Amahi Team
——
[1] What is a "generic name"?
A generic term is one used by much of the public to refer to a class or category of product or service. A generic name can not be protected or registered as a trademark or service mark. For example, no one seller can have trademark rights in "telephone" or "oven." If a seller did have exclusive rights to call something by its recognized name, it would amount to a practical monopoly on selling that type of product. Even established trademarks can lose their protection if they are used generically: thermos and escalator are famous examples.
Legalese. All trademarks mentioned in this post are the property of their respective owners. There, we said it.