Konnichiwa!
The team has had a busy last few weeks with a small surge in growth from the FLOSS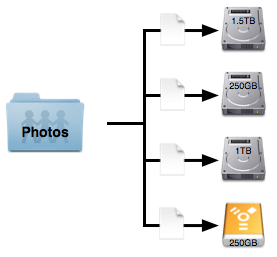 weekly interview and our award from Linux Format magazine, along with new features. We are proud to bring you Amahi 5.3! There are so many new features to this release that this announce should be for a 6.0!
First up, we have a wide beta release of a new disk pooling and replication technology brought by Greyhole! Amahi is the very first to integrate and release Greyhole widely and we're proud of that. See the first of the two videos embedded below (less than 3 minutes)!
Then we have a new one-click automatic VPN tester in the Amahi control panel, a new VPN configurator for Mac OS X, deb packages for Ubuntu, plus dozens of new apps in our app store!
… and we have a little teaser video for you at the end of this post, for a new HOT app called Videos5 (also from the very prolific Guillaume, the author of Greyhole!), to encode and stream videos to your iPad, iPhone, Android devices and other HTML5-enabled browsers.   🙂
Disk Pooling and File Replication using Greyhole
Disk pooling is the hottest new function to Amahi. Disk Pooling uses Samba to create a storage pool of all your available hard drives. It also allows you to create redundant copies (from 2 to whatever the max-number of disks you have in the pool) of the files you store. This can help prevent data loss if part of your hardware fails. Configure as many hard drives as you'd like to be included in your pool. You're storage pool size will be the sum of the free space in all the hard drives you include. Your hard drives can be internal, external (USB, e-Sata, Firewire…), or even mounts of remote file systems, and you can include hard drives of any size in your pool. This is very exciting technology in Beta, so please use only with non-critical data. Hit the first video below for a short overview!
We're Making Things Easier
Localization/translation improvements to 10 languages and new in this release we have the first bits of Japanese (Thanks Shingo!). This makes Amahi available in 20 languages!
New, much easier to install, Mac OS X VPN configuration package
Multiple UI improvements across the setup pages, for usability and consistency. See some eye candy
Installer improvements for stability and reliablity as well as usability (it suppresses some of the loud warnings)
App dependencies! One click installs all apps needed for one app to work!
A lot of updates related to building .deb packages for Ubuntu support (Thanks anzenketh!)
Improved calendaring, create an empty calendar on the HDA for an easy link to publishing or subscribing to calendars.
Get the details in the Amahi 5.3 release notes!
As usual, if you are on Amahi 5.x, you should have received Amahi 5.3 already via automatic update (unless you turned them off).
Cheers!
The Amahi Team
Video: Storage Pooling and Replication with Greyhole
Teaser for the Videos5 app in beta
Encode and stream videos to your iPad, iPhone, Android devices and other HTML5-enabled browsers.